After so much of waiting finally Nokia has launched its Lumia 925 in India for Rs. 33,499, this phone is already up for pre-order. Nokia has also launched Lumia 625 in India for Rs. 19999 which is also up for pre-order.
Lumia 925 is one of the much awaited phone in India as it was launched back in May. Lumia 925 comes with new design of aluminium chasis with polycarbonate at back which makes it thinnest lumia phone with just 8.5 mm thin.
As per specs this phone is not much different from Lumia 920, its powered with same dual-core Qualcomm Snapdragon S4 Plus CPU ticking at 1.5GHz, along with 1GB of RAM, it has 16 GB of internal memory with no memory card slot.
Lumia 920 has IPS LCD screen but in Lumia 925 Nokia has implemented AMOLED display screen of 4.5 inch with same screen resolution of 1280×768 pixels. AMOLED screen is introduced because it can control every pixels of screen which helps in GLANCE Clock which is pushed in Amber update.
Biggest change is made in camera, it has same 8.7 pixel camera as of Lumia 920 but Nokia has added 6th lens in it which enhances sharpness of images. As a part of Amber update users will get Nokia Pro Camera app which brings much more control which is not possible in stock Windows Phone camera app. It also has a 1.2-megapixel front facing camera and a 2,000-mAh battery.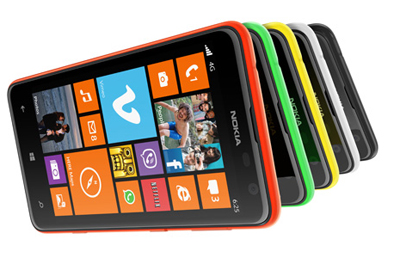 On the other hand, Lumia 625 brings big screen at affordable range to your pocket. Its the largest screen size lumia phone with 4.7 inch display screen.
It is powered by dual-core 1GHz Qualcomm Snapdragon processor along with 512MB of RAM, and 8GB of internal storage, with micro SD card option.
At back it has 5 MP camera and a VGA camera at front. But as it as large screen but  screen resolution is not so much so it could be a problem and as it has only 512 of RAM so most of the games would not run as they required at least 1 GB of RAM