Many times I use to watch talks on TED, but some times I have to leave talk and do some other work, at that time I wish that I could download those videos and can watch them from where I had left with no tension of burning my bandwidth.
But today I found TEDinator, its an nice portable tool which allows you to download videos from TED for free, One great thing which I found in this tool is that it allows you to download videos in group means you can download more than one videos at a time.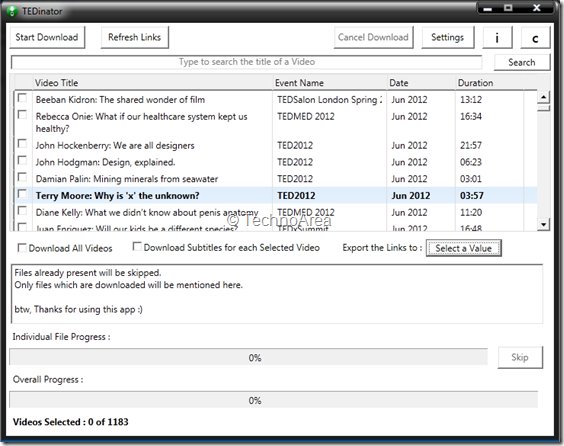 When you start TEDinator it will show latest videos from TED, you can also perform search to quickly find your video, the interface of it is quite simple and neat. It also allows you to download subtitles of the video, it can make your download a little slow too.
Once you select your video which you want to download just check them and then click Start Download button at the top, its an smart tool, if you had already downloaded any video then it will skip it automatically.
By entering into setting you can set Downloading folder, Quality of video which you wanna download and so on.