No doubt that high resolution pictures look good and very sharp which allows you to see very details of it, but when it comes to uploading them on social networking sites like Facebook or Twitter or if you try to send them via email then it can be a tough job.
High resolution images are quite heavy in size and occupies lots of space on your hard disk too which might makes you run out of space on local disk to, well you can compress images but you will loss quality too.
Caesium Image Compressor
Its an easy to use image compressor which allows you to compress your image in batch without losing its quality. Caesium Image Compressor can compress images up to 90% without affecting quality.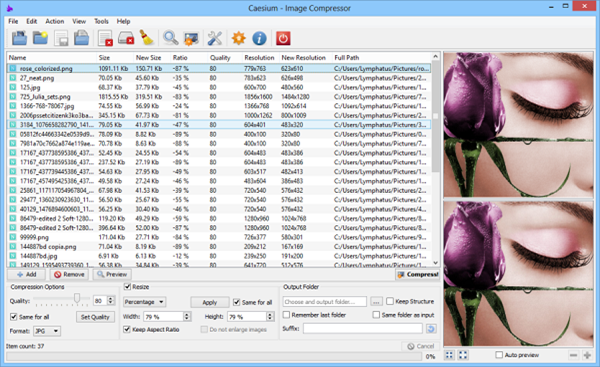 Its very simple to use, even a newbie can use it without any hassle, after compressing you can easily upload them to your social network account or just email them.
If you are a blogger then its quite useful app as heavy images not only take time to upload but also affect your page speed.
Features Of Caesium Image Compressor :-
Compress images up to 90%
Compress images in batch
Allows you to resize images too
Supports images with extensions JPG, PNG, JPEG, WMF or BMP, after compressing it saves them in BMP, PNG and JPG.
Allows you preview compressed images before saving them
Supports drag and drop
Note :-
By default if you delete any image from Caesium Compressor then it will delete image from your hard disk too, if you don not wants this feature then simply navigate to Tools –> Compression and uncheck option says Delete the original file from disk.
Final Verdict On Caesium Image Compressor :-
It's a nice freeware tool which allows you to compress images from free without losing its quality.