If you are not visiting Amazon for shopping because they charge you a lot for shipping products in India then here is a good news for you, Amazon has announced that they will not charge shipping charge if you buy products which cost $125 or more.
As Black Friday, Thanksgiving Day and Cyber Monday are coming then you might get huge discount on Amazon. But you have to know that not all products on Amazon are eligible for free shipping, Only AmazonGlobal Eligible products will be shipped free to India.
How To Find Products Eligible For Free Shipping?
If you want to find products which can be shipped free to you then you have to search for category of product rather then searching for brand like if you ant to look for Nexus 7 then instead of searching Nexus 7 search for tablets.
On the next page page click on Computer Tablet under Department :-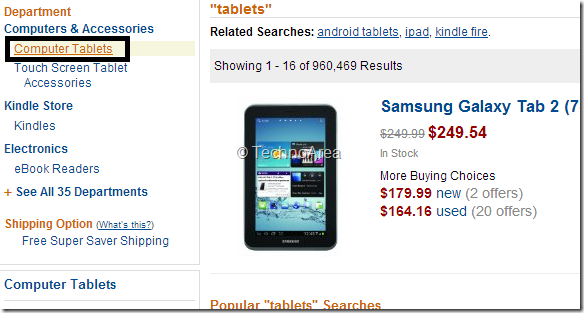 Now on next screen click on AmazonGlobal Eligible :-
That's it now all products you will see will be eligible for free shipping around the globe.