From a couple of months there were rumors that Xiaomi is gearing up to enter into Drone business, and today Xiaomi has announced their first drone that is targeted at the high-end consumer market. Mi Drone comes in two variants — the 4K version retails at RMB 2999 while the 1080P one is priced at RMB 2499. Mi Drone (1080P) will be crowdfunded on the Mi Home app starting 26 May 2016, and Mi Drone (4K) will be available for testing via an open beta programme in late July.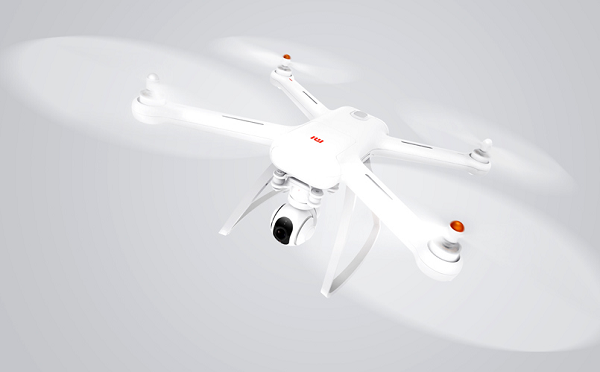 Mi Drone comes with either a 1080P or 4K camera. The 1080P camera sports a 16-megapixel Sony backside illuminated CMOS sensor and has a 104- degree wide angle lens. The 12-megapixel 4K camera shoots video at a maximum resolution of 3840 x 2160 pixels and supports recording still images in RAW format. For stable footage, the camera on Mi Drone is attached to a highly sensitive three-axis gimbal that stabilises up to 2000 vibrations per second.
Mi Drone has a number of smart flight controls and autopilot options that make it extremely easy to operate. It has included automatic take-off, landing, and return modes, as well as functions for flight path planning and circling around an object, which can also be easily accessed through the buttons on the remote control.
Mi Drone uses both GPS and GLONASS for accurate positioning. In the absence of satellite signals, Mi Drone uses vision positioning and can continue hovering even at low altitudes (below 2.5 metres).
Mi Drone also has four layers of built-in security — real-time location tracking to allow users to retrieve the drone easily even if it has crashed, real-time computing power to enable it to return on low battery levels, automatic hovering at the edge of no-fly zones, and the use of a remote control with a PCB antenna array to avoid losing contact with the drone.
Mi Drone uses a 1.2mm thin body design, it is a quadcopter with four propellers and a camera, and it is so much portable that you can carry it in a bag, much of its weight is due to 5100mAh battery which allows you to use it for around 27 minutes.