Square Yards, a technology-enabled transaction and aggregation platform for global real estate which recently scooped up $6 Million from multiple investors, has announces the launch of its Square Connect mobile app for real estate brokers, independent financial agents, stock broking firms and financial institutions. The main aim of this app is to provide access to a much larger primary real estate inventory opening up more possibilities to do business outside the current area of operations and helping them potentially earn higher commission slabs from developers.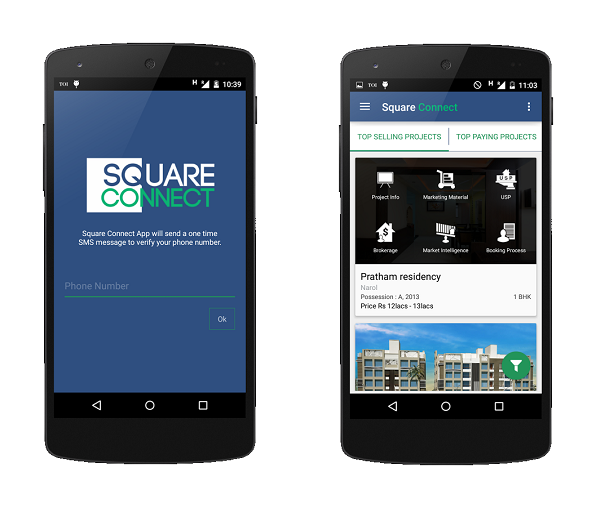 Square Connect is India's first mobile-only aggregation platform for primary real estate and has already pre-enrolled 10,000+ real estate brokers across 12 different cities. It has tie ups with 25+ top stock broking firms, financial institutions and online firms. It aims to reach 100,000 brokers and hit 100+ institutional tie ups by the end of FY16. This would be the largest distribution network of primary real estate anywhere in the world.
Small real estate brokers and agents have excellent local relationships with customers but they are constrained in their ability to source good deals from grade-A developers. Even when they are able to get a good deal, they are not able to demand a good account receivable period because of the relatively low number of transactions. Most of these agents are forced to then work with smaller developers or resell where margins are typically low. Similarly independent financial consultants and stock broking firms, in spite of having a large and influential customer base, are not able to offer real estate asset class to their clients because of their lack of relationships with the developers.
Tanuj Shori, Founder & CEO of Square Yards, says – "With the Square Connect program, we are pivoting our business model to be more of a technology-enabled aggregator and distributor of primary real estate rather than a pure play transactions advisory. In the last 20 months, Square Yards has been able to generate exceptional growth rates in all key metrics, and currently transacts >300 transactions/month and USD1M+ Net Revenues/month with GTV ~USD 40mn/month – more than any organized online or offline real estate player in India. Square Connect's unique platform will help Square Yards to reach the targeted 20% market share of primary residential market in India by consolidating supply and demand, creating significant barriers of entry through scale, sourcing capabilities, and use of technology to enable multi modal distribution platforms"
Sahil Shah, Co-founder & Principal partner, who also heads the Square Connect program, adds – "Just like how an Ola/ Uber brought about a change in the lives of the cab drivers, life of a real estate agent will now see such a major transformation with the Square Connect program and mobile app. We are creating a platform where they get access to exclusively sourced deals and inventory from grade-A developers across India, an opportunity to earn higher commission slabs from developers with the power of demand aggregation, and increased productivity without worrying much about operations hurdles – in a way enabling them to focus on their core business i.e. meeting clients and closing transactions."