I had already told you many ways to shorten URL like directly from browser address bar, Using Goo.gl  etc.
But the main thing in this services is that they didn't check URL's security, there is no way to find whether the URL is secure or not.
I hope you all are very aware of McAfee,The famous Anti-Virus company who started their own URL Shortening service through Mcaf.Ee.
Any URL shortened through Mcaf.Ee is checked against McAfee databases to check whether site contains any spam, dangerous, malware hosting etc..
Now you can directly use this from Firefox Context Menu.All you have to do is just install following Add-On in Firefox and then just right click on any url and click on shorten with mcaf.ee.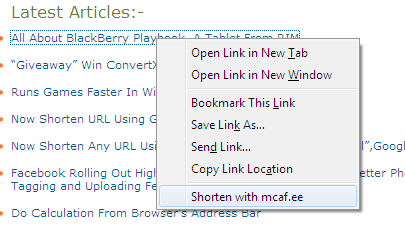 The shorten url will be copied automatically to clipboard.
You may use following link to install this add-on on Firefox:-