If you are following ME on twitter then you must know that I had many times said that in 2011 many major manufactures of tech devices will launch their own tablet pc's.
Now RIM (Research In Motion), the manufacturers of BlackBerry phones has also decided to launch their tablet BlackBerry Playbook,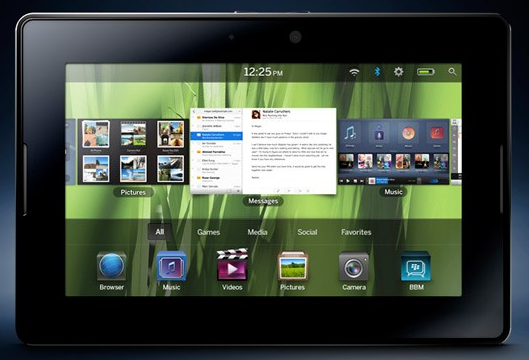 At first look it seems nice,It is a 7 inch device.It has 2 camera one at back ,5 MP, and the other at front,3MP, and both cameras are good.
It will run on dual core processor which makes it really fast and you could do multiple task at one time with such a good processor.
Full Specs Of BlackBerry PlayBook,
Dimension = 5.1×7.6x.0.4,
Weight = 400 Grams,
Supports HDMI port,USB,
Wi-Fi, Bluetooth 2.1,
Capable of HD videos,
Memory of 16 GB and 32 GB,
Runs on QNX OS,Just acquired by RIM in April,
Pre-Installed Adobe Flash, and Adobe Air
This tablet may be launched at the first half of 2011 in US and in second half of 2011 at other countries.
RIM has not yet revealed the prices but it seems it will be around $500 – $750.
We had expected that RIM will launch it tablet with its own BlackBerry OS 6 but here the disappointed me,But its too early to say anything.