Yesterday I had told you a very useful Lab which displays new mail as icon on tab, but sometime you may not look at the tab in that case you may miss new mails, Gmail team has introduced a new feature which notifies you if a new mail or chat message arrives.
Now you can get desktop notifications if any new mail or chat messages pings.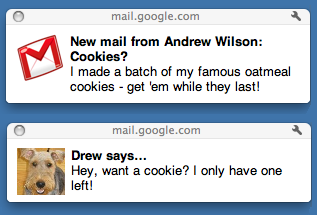 To enable this feature just do this :-
Login to your Gmail account and click on Setting,
Now under General tab scroll down and look for Desktop Notifications and turn on which notification you want to ping,

Now at last just hit Save Changes button and that's it now will get desktop notification.
PS This works only on Chrome, So you must be signed-in using Chrome.