Many times while attending some media events I require to record audio while creating videos, but at the same time taking full-fledged microphone is not easy, in that case, I carry lavalier microphone but again if you need to interview someone the lavalier microphone can't be used. I was going through this situation and then I got a small and handy microphone, Sony STM10.
If you ever used Sony's flagship smartphone like Sony Z2 or Z3 then you must know that these devices come with built-in noise cancellation and they work great with Sony's noise cancellation headphone's. And if you use Sony STM10 with these devices. I got mine few days back and I am very much impressed with the audio quality of it.
Inside the box you will get your microphone and windscreen, there was no protective bag to keep this accessory while on the go. Before we proceed further, we would like to confirm that this microphone works with any other smartphone as well.
Sony STM10 Specs :-
Sensitivity: -40dBV/Pa (+-3dB)
Frequency response: 50Hz – 20kHz
Mic configuration: XY pattern
Power supply: 3.5 mm connector socket
SPL Handling range: 35-120 dBA
S/N ratio: Up to 85 dB
Usage of Sony STM10 :-
In our usage we found out that this microphone is quite handy, easy to carry and easy to use, you can download a free Audio Recorder app from Play Store which lets you choose between recording words or music which is again very useful. There are a couple of more free audio recorder apps available, but this one is coming from Sony itself.
While recording audio with this microphone, it cuts the background noise and up-scale the recording audio, and provides sharper and professional audio to you. The interface of the app is also very simple and you can record audio without any issue.
Another thing which you will find here is that this microphone is fully adjustable and you can turn to both sides and up and down (type X / Y, up to 120 degrees).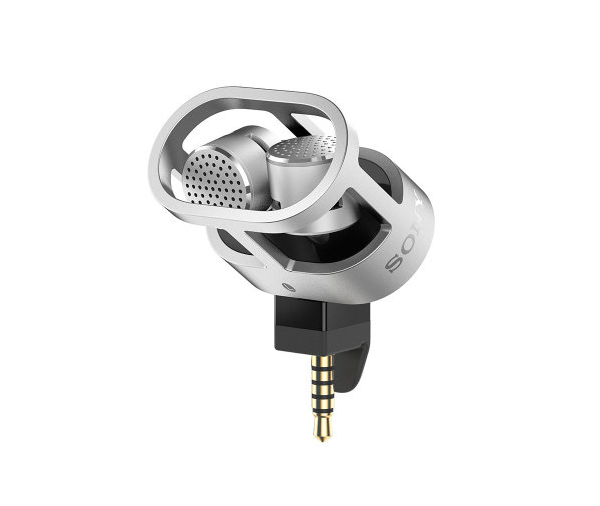 Yes, this device is bit costly, but if you need professional audios and want a handy solution then you can surely invest in this. Sony STM10 is available for around $65 on Amazon but i got it from MobileFun where it is available for $42 only.