Dropbox is a nice and very useful online utility which allows you to upload files and folder and share it with other.
It is based on cloud computing and you will be able to synchronize your files with others.
But some time we were in hurry or don't want to upload files by coping and pasting it on the Dropbox folder, so here is a simple way to upload files just from your context menu.
First download and install Dropbox client on your pc,
Now you will get a shortcut on your desktop don't delete it you will need it,
Now if you are on Windows Xp then move to :-
C:Documents and Settings<User>SendTo
For Windows Vista Or Windows 7
%APPDATA%MicrosoftWindowsSendTo
Now you are on the

Send To

menu folder, just copy and paste the Dropbox shortcut from desktop to Send To folder,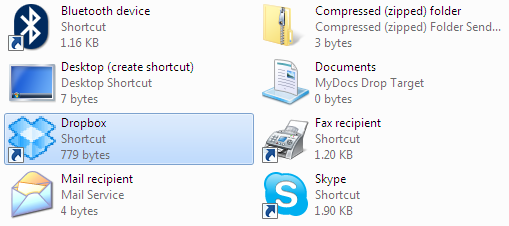 That's it now you have an option under Send To menu,To upload any thing just right click on it and click on Send To and just click on Dropbox option and you file will be uploaded to your server.