Almost those who use internet for downloading must know about torrent clients,We had already told you :-
Now you must be wondering about which torrent client is best,Which one is fast among all and like that.
Tixati is a new torrent client,It is a free app, contains no spyware, no ads, and no gimmicks.it uses Ultra-fast downloading algorithms.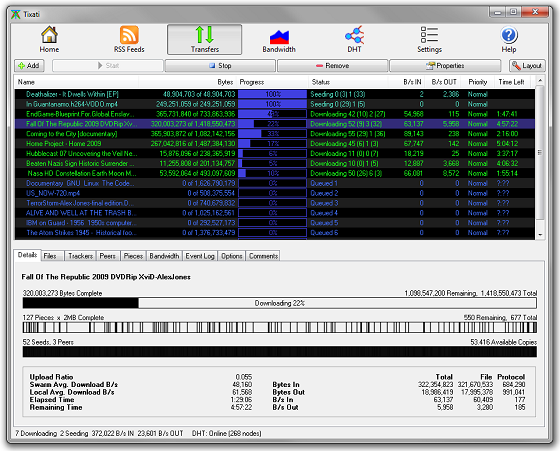 Tixati has the following features:-
Detailed views of all aspects of the swarm, including peers, pieces, files, and trackers.
Support for magnet links, so no need to download .torrent files if a simple magnet-link is available.
Super-efficient peer choking/unchoking algorithms ensure the fastest downloads.
Peer connection encryption for added security.
Full DHT (Distributed Hash Table) implementation for trackerless torrents, including detailed message traffic graphs and customizable event logging.
Advanced bandwidth charting of overall traffic and per-transfer traffic, with separate classification of protocol and file bytes, and with separate classification of outbound traffic for trading and seeding.
Highly flexible bandwidth throttling, including trading/seeding proportion adjustment and adjustable priority for individual transfers and peers.
Bitfield graphs that show the completeness of all downloaded files, what pieces other peers have available, and the health of the overall swarm.
Customizable event logging for each download, and individual event logs for all peers within the swarm.
Requirements :-
CPU processor speed at or above 1 GHz
At least 256 MB of free RAM
Hicolor display with at least 1024×768 display resolution