Many times we have a PDF file which is too large to send as eMail attachment or you might want to view a PDF file on low resolution screen but PDF file has high resolution. In both cases you either need to compress PDF or reduce size of PDF file so that it can be properly viewed or sent via eMail.
Free PDF Compressor is a free PDF compression software to enable you to effectively reduce the size of PDF files.
This freeware is easy to use, you just need to select PDF file and hit compress button, a compressed PDF file will be saved.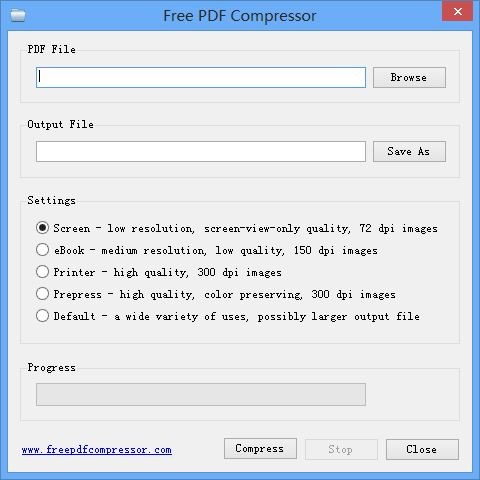 This tool PDF software compresses image files available in PDF up to an acceptable quality, so that you can PDF file without losing quality and PDF file can be read on a device like Mobile Phone, Tablet and etc.
This tool also shows a progress bar which shows progress of the whole compression process. Once file is compress you can send it via email or upload over cloud.
This software supports five different compression settings:
Screen – low resolution, screen-view-only quality, 72 dpi images
eBook – medium resolution, low quality, 150 dpi images
Printer – high quality, 300 dpi images
Prepress – high quality, color preserving, 300 dpi images
Default – a wide variety of uses, possibly larger output file