Google has recently launched Google Drive to bring a new war cloud storage world and now they had updated their online Office suite, Google Docs.
Recently Google has added 450 new fonts to its library and 60 new templates were also added to it, now you can create lots of funny things and show your creativity to the world.
To use it, just click on Fonts and the you will see an option Add Fonts at the last, just click on it and you are presented with lots of new fonts.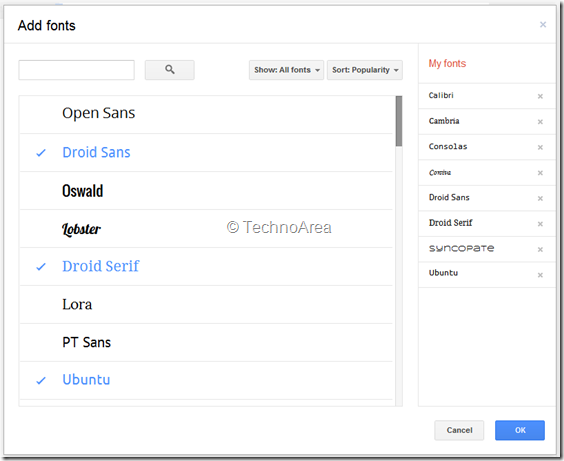 So Google Docs is updated with :-
Google Drive launched as a place where you can create, share, collaborate, and keep all your stuff.
There are now a few more options for inserting images in Docs, including inserting from Google Drive, searching for images from the LIFE Photo archive, or taking a snapshot with your webcam.
Charts in spreadsheets now has support for minor gridlines and options to customize the formats of axis labels
Accessibility in Docs got better with support for screenreaders in presentations and with the addition of NVDA to our list of supported screenreaders.
From File > Page setup… you can now set the default page size for your new documents.
It's now easier for speakers of right-to-left languages by automatically showing bidirectional controls when you type in a language that might use them.
Apps Script had many improvements, including

A new ScriptService for programmatically publishing your scripts and controlling when they run.
A new function to find the root folder of someone's Drive.
An increase in the allowed attachment size in emails from 5MB to 25MB.
An increase in the size of docs files you can create from 2MB to 50MB.

There are now over 60 new templates in our template gallery.