Angry Birds is one of the most popular and played video game on computers and mobile phones, we had shared lots of stuffs regarding it like Play Angry Birds On Webpage, Official Angry Birds Theme, Angry Birds For Windows, Angry Birds Theme With HD Wallpapers.
Now we are here with another cool stuff for you, our friend hameddanger at DA has created Angry Birds Skin Pack which allows you to transform your Windows 7 into Angry Bird game.
This Skin Pack comes with, Angry Birds theme, Icons, Mouse Cursors, Boot Screen, Logon Screen, Dock, Wallpapers, Sounds, Start ORB and lots of other stuffs.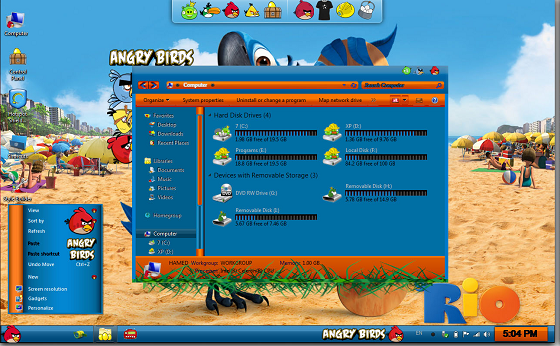 You can install it on Windows 7, with or without SP1 on both 32 Bit or 64 Bit.
P.S. Make a system restore point before installing this skin pack, if anything went out of plan then you can easily switch to stable stage.