Anti Virus are one of the most important too for any computer, there are lots of cases when someone had entered into someone else computer and steal many personal data. So its always recommended that you use a good anti virus tool on your computer.
There are lots of Anti Virus tools out there, some of them are Free and some of the are Paid ones, many times a user can get confuse which one to download and he might download and install a Fake one which instead of protecting him send information from his computer to other party who had made it.
To protect users Tread Micro, a well popular Anti Virus company had released an tool which allows you to find a fake AV and remove it. The tool is portable, just download and launch it.
Once you launch it, you need to agree its terms just Agree and then you will see a a window with few option like :-
Scan All Processes :- It will scan all your computer for fake AV,
Scan Selected Processes :- It will scan some processes which you will select,
Scan A Window & Remove FakeAV :- Here you need to drag and drop icon of any process and it will scan it.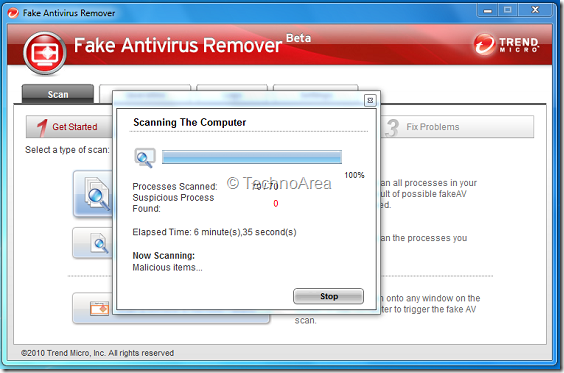 If you are running it for first time then its advisable to scan whole computer, If during scan it find any error then it show after scanning, just click on clean to remove it..
Its an good tool to detect and remove any Fake AV from you computer and to remove it.