Gmail has lots of themes by default from where you can select any of them to show your style but many times we want to design our own theme by adding some of you pics to it.
Now Gmail allows you to create a custom theme, it allows you to add 2 pics, one will be displayed as the background and other will be displayed at the footer.
Here is the procedure :-
Login to your Gmail account and the click on the Setting link at the top-right corner of the page.
Now click on Theme tab,
Once you are in Theme page scroll down and you will a option saying Create your own theme, click on it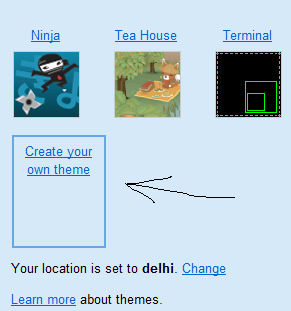 Now you will see a pop-up window opening,
Here you will find many section where you can select color or Image, You can either chose image from Picasa album or from your computer.
Once you are done just hit Save Button and you are done.