Facebook is a nice place where are are always connected with our friends no matter how far they are, we can also share photos or videos with them. But there is on limitation on Facebook that you can only upload photos which are there on your computer.
If you find any photo on internet then you first need to download and save it on your computer and then upload on Facebook. But now you can upload photos on Facebook by just copy pasting URL of that photo.
To upload photo by URL, first copy URL of photo on your clipboard, now goto Facebook and click on Add Photo/Video and then click on Upload Photo, Now click on Choose Photo and a dialog box will appear.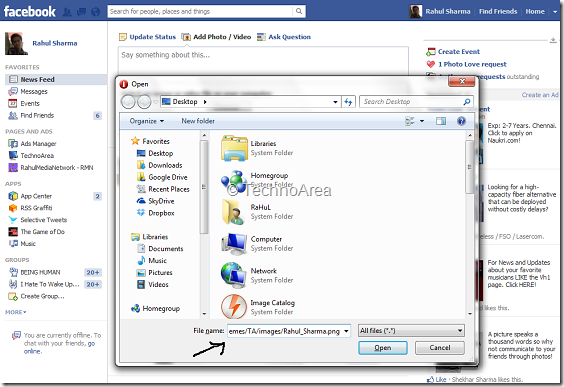 In that dialog box you need to paste the URL in File Name Field (refer screenshot). Now click on Open and you are done. Isn't its easy?
P.S. In our test we had found some problem in uploading via Opera, but if you use Google Chrome, Mozilla Firefox or IE then you wont face any problem.