Every anti-virus is meant to protect you from all kinds of threats and BitDefender Antivirus Plus is the one which does its job vey well for you. BitDefender Antivirus Plus 2013 can protect you from both online and offline threats all time.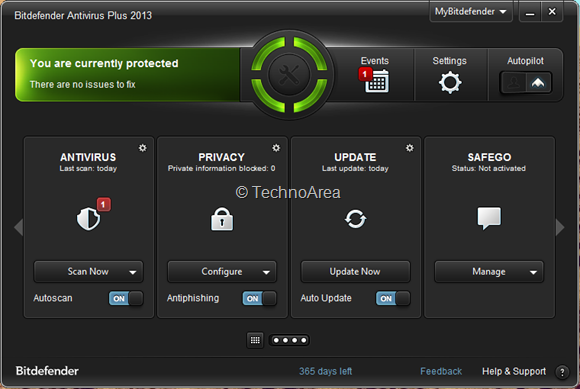 Bitdefender constantly look for all entrance of your pc like data transfer from USB, CD/DVD, from networks, downloading, and emails too. It also comes with a safe browser which you can use if you like to browse internet safely, it doesn't support any addins and also doesn't interact with any other program in your computer, it do comes with virtual keyboard for entering passwords.
Nowadays we see lots of malware attacks from your social media like Facebook and Twitter accounts, This tool scans and blocks all links which you share or post on your social accounts.
You can configure BitDefender so that it can protect your personal data from being shared without your permission, It is very useful if you share your computer with others and sont wanna share some information over the internet.
If you love to chat then BitDefender can encrypt your Yahoo! chat too. Once you install it and turn on Auto Pilot mode then it will take care of your system and take the very best decision on it own. In our usage it had passed all tests and worked very fine to us.
What We liked :-
Scan your computer before installing
Malware test results were good
Protects your Twitter and Facebook data
What We didn't liked :-
Makes your system slow,
Sometime it takes long time to clean infected drives.
TA rating :-4/5