It seems like Google dont want to give up for its Chromebook series, after launching couple of Chromebook in past which fails to impress users, and Google is keep joining hands with new OEMs, yesterday night Google has launched its cheapest Chromebook which is priced $149 which is hardly Rs. 9K, Haier Chromebook 11 (Get It on Amazon) and the Hisense Chromebook are the two new members in Chromebook family.
These both Haier Chromebook 11 and the Hisense Chromebook have got 11.6-inch displays, 2GB of RAM, 16GB internal storage, decent keyboard and trackpad, and promise all-day battery life. Previously the cheapest Chromebook starts from $199.
Apart from this Google has also announced an ultra-portable notebook, the ASUS Chromebook Flip which is just like Lenovo Yoga Pro tablets, you can flip it. In terms of features it has got an 10.1-inch HD display screen which you can flip all the way to back at 360-degree, it is powered by an Rockchip SoC along with up to 4GB RAM and includes a 16GB SSD, and it will be available in second half at the price tag of $249 which is hardly Rs. 15000/-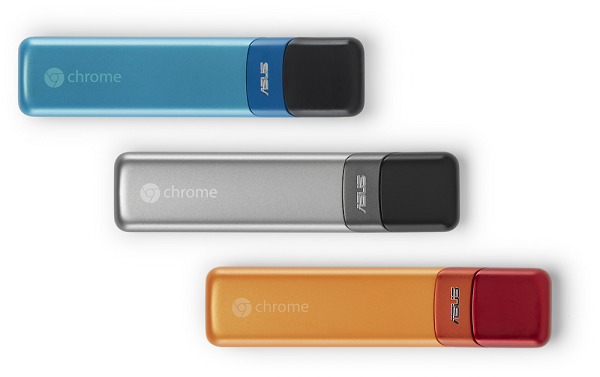 Very soon you will be able to turn your display into a full computer, Asus Chromebit is a small USB type device which you just need to plug into your display. It will be available for less than $100, rest of the features and specs are rare at this time.
Another Interesting thing Google has announced that Google is soon joining hands with new OEM partners for future products and these partners are Xolo, True, Nexian, and its existing partners like Acer, AOPEN, Asus, Dell, HP, Lenovo and LG will also be launching their Chromebook very soon.