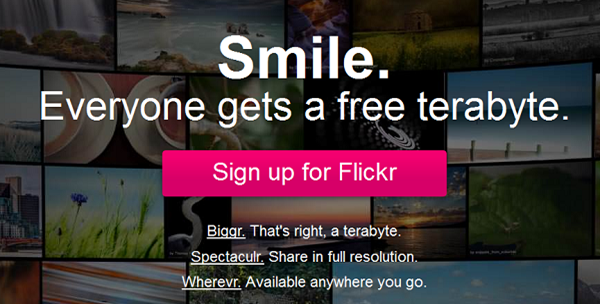 Yahoo has recently acquired popular blogging platform Tumblr, and now to another announcement Yahoo is going to offer 1 TB of free storage on its very much popular photo sharing site Flickr.
Users with free Flickr account will get 1 TB of free storage so that they can store their HD photos. As per Yahoo its 70 times bigger than what competition is offering.
Full HD photo uploading means now users don't have to resize their images before uploading them to Flickr. Yahoo has also addes social sharing options which allows you to share photos on Facebook, Twitter, Tumblr and Pinterest.
Yahoo is also going to launch new Flickr app for iOS and Android so that users can upload photos very easily.
Flickr Plans :-
Free:
1 Terabyte of photo and video storage
Upload photos of up to 200MB per photo
Upload 1080p HD videos of up to 1GB each
Video playback of up to 3 minutes each
Upload and download in full original quality
Ad Free:
$49.99 per year
All the benefits of a free account
No ads in your browsing experience
Doublr:
$499.99 per year
2 Terabytes of photo and video space
All the benefits of a free account