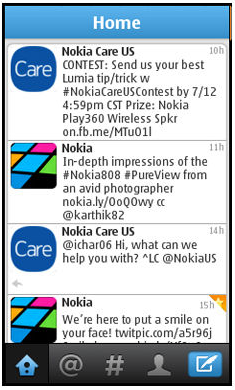 There is no doubt that Twitter is one of the most popular social networking site out there, almost every uses Twitter to share whatever is in his mind.
Twitter  has already released its app for iOS, Android, BlackBerry and other smartphone and Tablets, but now Twitter has launched app for Nokia's S40 devices.
It quite surprising that Twitter has decided to launch for Nokia's feature phone OS, S40 but they had not released app for Symbian till now. Well S40 is one of the most used OS in Nokia's phone and Nokia is still using it on there Asha series phone.
Sometime back FourSquare has also launched app for S40 devices, Design of this app is very similar to of Smartphone app, you will find Home, Mention, Profile, Trend and Create Tweet button at the bottom in a row.
Well its nice that Twitter has launched app for entry level phones and now you can use twitter without using any third party app.
You can download it from Here.