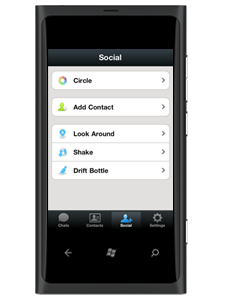 Tencent has launched WeChat, an mobile phone chat client which allows you to stay connected with your friends. By launching WeChat Tencent wants to give competition to WhatsApp which very popular in smartphone users.
WeChat is available for Symbian 60 (v5 and v3), Symbian 3, Windows Phone, iOS, and Android. It comes with some nice features like :-
Voice Messaging :- In this you can send Voice Message to your friends,
Shake :- With this feature you can add, connect or find friends by just shaking your phone,
Look Around :- Using this feature you can find WeChat users near by you,
Drift Bottle :- Using this feature you can drift a bottle by writing some message in it, or you can pick bottle drifted by someone else and read message,
Facebook Connect :- Using this you can add or get connected with your facebook friends,
Emotions :- You can create you very own emotions by adding photos from your phone,
Group Chat :- Now chat with more than 1 friend at the same time
You can download it from HERE.