When Google has announced its Google Glass project every one was wondering what Google is going to make, how it will work and lot more. Slowly Google has answered many of those question, but when it comes to price Google Glass is very much costly.
We had already told you about GlassUp which is a nice Google Glass alternative. If you are looking for some more option then take a look on Recon Jet wearable Glass.
This product is very much similar to Google Glass and best part is that its available for order. It is powered by 1 GHz of Dual Core ARM Cortex Processor along with 1GB of RAM and 8GB of onboard memory.

Jet also lets you export your data to activity networks that you already use such as Training Peaks. It has 9-Axis sensors, 3D accelerometer, 3D gyroscope, Pressure sensor and 3D magnetometer.
It has HD camera which can shot HD videos too, it has wide screen 16:9 WQVGA display. It also has a optical touchpad so that you can control UI too.
For connectivity it has Wi Fi 802.11 a/b/g/n, Bluetooth 4.0, Micro USB Support,, you can install and use apps like of social media, weather apps.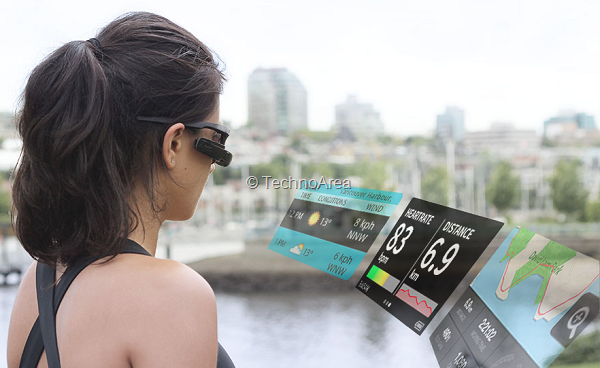 According to Recon Jet, this is the World's Most Advanced Wearable computer. It available for $599
Features Of Recon Jet :-
ONBOARD
SENSOR
FRAMEWORK
9-Axis sensors
• 3D accelerometer
• 3D gyroscope
• 3D magnetometerPressure sensor
• Altimeter & barometer applicationAmbient temperature sensorOptical touch sensor for UI control
Works in all weather conditions, and with gloves on
PROCESSOR SUBSYSTEM
1 GHz Dual-Core ARM Cortex-A9On-board memory
• 1GB DDR2 SDRAM
• 8GB flash
ULTRA-COMPACT
DISPLAY
Wide screen 16:9 WQVGA display
Virtual image appears as 30″ HD display at 7′
Power-saving sleep mode
High contrast and brightness for readability in high ambient lighting
NETWORKING
SUBSYSTEM
Wi-Fi (IEEE802.11a/b/g/n)Bluetooth 4.0 (Bluetooth Smart)
• Apple MFi Bluetooth supportGPS
• MEMS GPS/INS Kalman filtering fusion algorithmANT
• Support for connectivity of up to 8 ANT+ peripheralsMicro USB
• Device charging/power
• Data transfer
EMBEDDED
AUDIO & VIDEO
HD cameraIntegrated speaker and microphone
You can place order for Recon Jet via their website.