We had already told you that HTTPS connection is more secured, and we had also told you how to activate it on Gmail and use on Facebook And Twitter.
But requires you to type HTTPS manually in address bar, but now Twitter is allowing you to use HTTPS connection permanently.
To turn on HTTPS, go to your settings and check the box next to "Always use HTTPS," which is at the bottom of the page.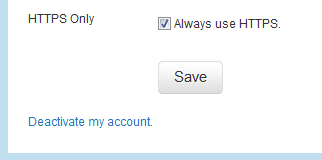 This will improve the security of your account and better protect your information if you're using Twitter over an unsecured Internet connection, like a public WiFi network, where someone may be able to eavesdrop on your site activity.
Before this Twitter is using HTTPS connection on following instances
When you log into Twitter, so your password stays protected.
On the official Twitter for iPhone and iPad mobile application.
There are also a few instances where turning on HTTPS in your settings does not force HTTPS. Like, when accessing Twitter from your mobile browser, you need to go to https://mobile.twitter.com to use HTTPS for now.
Hope they make HTTPS as default in mobile too.