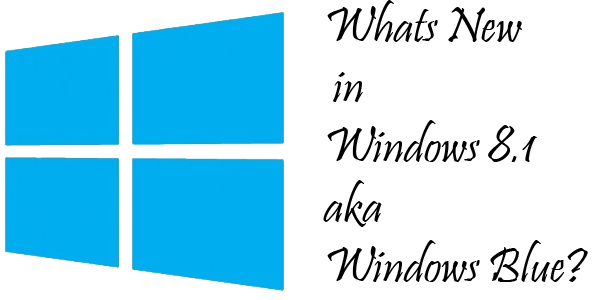 Microsoft will releasing preview version of its latest Windows 8.1, this update will be available free for Windows 8 users. Microsoft has introduced lots of new features and updates in this version, if you too curious to know what are those features then here is the list :-
#1 Start Button
When Microsoft launched Windows 8 then the biggest change for everyone was removal Start Button and introduced Start Screen, many has loved it but most users has missed it and want it back, it seems that Microsoft has heard it and decided to bring Start Button back in Windows 8.1.
#2 Boot Direct To Desktop
In Windows 8 when you boot you will be taken to Start Screen and then you need additional step to go to desktop, but in Windows 8.1 you will have option to boot directly to Desktop and skip Start Screen.
#3 New Sized Tiles
In Windows 8 we had 2 sizes for live tiles, Large and Small but in Windows 8.1 Microsoft has introduced 2 new sizes, Thumbnail which is quarter for smaller tile and Super-Size tile which is equal to the combination of 2 large tiles.
#4 Start Screen Wallpaper
In Windows 8 most users wants to set their own wallpaper on Start Screen but they are left with options to select ascend and color schemes, but in Windows 8.1 you have more control over personalization and can select your own wallpaper for Start Screen.
Windows 8.1 also includes motion accents, these are animated wallpaper which wallpaper moves as you scroll through Start Screen.
#5 Lock Screen
Now you can use your Lock Screen as digital photo frame in which you can display slide show of photos stored on your computer or on SkyDrive.
#6 New Split Screen
In Windows 8 you can work on 2 apps simultaneously but one app in full screen and other in small area but in Windows 8.1 allows you to work on both apps on equal sizes.
#7 IE 11
With new Windows 8.1, Microsoft is going to introduce new Internet Explorer too, in Windows 801 you will find IE 11 in both desktop and Metro mode. IE 11 will allows you to sync tabs with your Windows Phone 8 too.
#7 New Windows Store
At present when you open Windows Store you will find apps name and its pricing but in new Windows Store you will find more descriptive home page. You will also find top paid and top free apps on homepage.
#8 SkyDrive Integration
In Windows 8.1 Microsoft has integrated it cloud service SkyDrive  ore tightly and you can upload photos to your SkyDrive account the basis of rating too. You can also select SkyDrive as your default save location for various apps.