Microsoft has launched an online solution center Microsoft Fix It Center Online for its windows users.The Microsoft Fix it Center installation will automatically identify possible troubleshooting issues during installation.It offers solution for common computer problems that may affect your Windows And Microsoft Products.
What you need
You can use any computer with Internet connection to get started with Fix it Center. Simply download the Fix it Center client and follow the on-screen instructions to complete the setup. You can install Fix it Center client on as many PCs you like.
We recommend signing up for Fix it Center Online during setup so you can manage all your computers from a single location on the Internet yet can view solutions specific for each PC.
Upon installation of the Fix it Center client, it automatically downloads the latest troubleshooters in our library to your PC. The troubleshooters can "find and fix" issues immediately or "find and notify" you of the issues it detected. The "find and notify" puts you in control – you decide which issues you want the troubleshooters to resolve. No matter what you choose, we show you a report of what was performed on your PC and offer you options to learn or further investigate the issue or submit a support request at Fix it Center Online.
All the relevant information about your PC as well as the reports from the troubleshooters can be seamlessly included in the support incident request .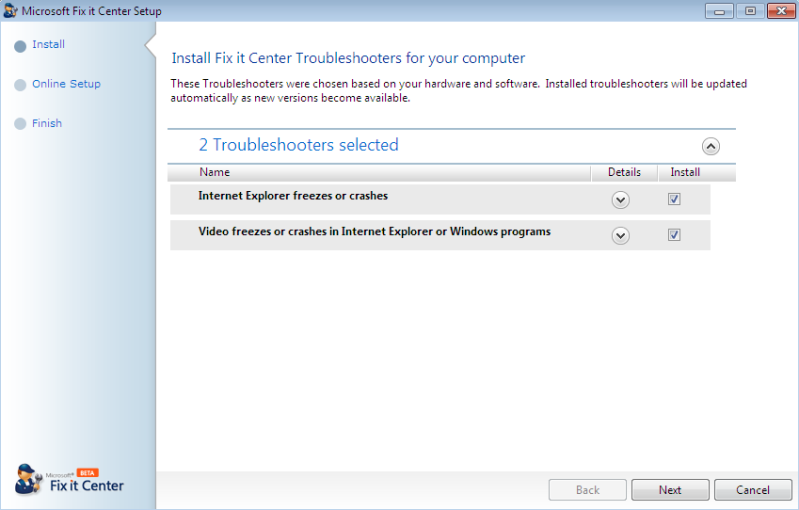 Microsoft Fix it Center makes getting support easier than ever, with tools that help solve the issues you have now and prevent new ones.
Easy to Install and Run: Easy-to-use wizards will guide you through the set-up process and help you anytime you need support.
Automated: With automated troubleshooters, Fix it Center helps solve issues with your PC, even if you're not sure what the exact problem is. Fix It Center scans your device to diagnose and repair problems, then gives you the option to "Find and fix" or to "Find and report.
Preventive Care: By helping you find and fix issues before they become real problems, Fix it Center helps keep your PC running smoothly and automatically downloading the latest solutions.
Personalized for your Device: By scanning your PC and devices to detect which hardware and software you are using, you get more personalized support with Fix it Center.
Manage Multiple Devices:With a single view of all your devices, it's easy to manage multiple devices from one view. You can even manage them remotely.
Microsoft Fix It Center works on following OS:-
Windows XP SP3
Windows XP Pro (64-bit) SP2
Windows Server 2003 SP2
Windows Server 2008
Windows Server 2008 R2
Yo may use belows link to download Microsoft Fix It Center:-
Download Microsoft Fix It Center