There are lots of tool available which create an image file for your CD/DVD like ImgBurn and so on, there are both freeware and paid tools which can create ISO file and can also burn them to your CD/DVD.
Similar to ISO file and file format is MDF (Mirror Disc File) is disk/DVD/CD image format produced by some burning software (such as Alcohol 120%).
As ISO is very familiar format so you can find lots of tools to burn it on CD/DVD but for MDF you had purchase Alcohol 120% which cost you around $55.
MDF to ISO is an easy to use and simple tool which can convert your MDF to ISO format, its an freeware tool and it is adware free tool also, you can convert unlimited number of times without any restrictions.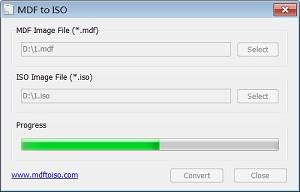 To converts first you need to select one MDF file you want to convert, and input a your ISO file name, then you can click the "Convert" button to start conversion. The conversion time is based on the original file size and the capacity of your computer CPU, program will show a real-time progress bar to display the specific conversion progress.