As we had told you that Windows 7 is totally different and contains news style and icon as compared to Windows XP.But Windows XP has classic look and we had already told you how you can get LUNA THEME and Windows XP like Taskbar in Windows 7.
Now if you remember then you will notice that Windows XP had network indicator which shows network activity by blinking.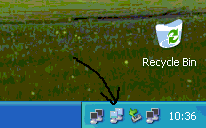 If you miss that classic network activity indicator in Windows 7 then here is app for you which brings back that nice indicator in Windows 7.
Network Activity Indicator is a nice and small app which brings Windows XP like Network indicator back on Windows 7.
Unlike the original Windows XP utility (that has individual indicators for each interface), this program indicates outgoing and incoming network packets on all available interfaces.

All you need to do just download and open file (if you choose ZIP) Or install and start it,You will find XP like indicator on your system tray.
TIP :- Drag and drop your Windows 7 original network indicator to hidden icons so that you can get view of only XP like indicator.
You may use following link to download it :-
Download Link (EXE with Uninstallation Support)