Today Stellar has launched an update for its popular Windows Data Recovery Tool, we got this tolls and played few hour with it to find out what it has got and how can it help you to recover your data.
Installation :-
Installation is straight forward and doesn't require any extra effort from your end, just launch the installer and you are done.
UI:-
User Interface of this tool is very minimal and simple too. We were hoping it will feature a Tile interface to match Windows 8 as other tools are doing but Stellar has decided to stick with its classic interface.
Usage:-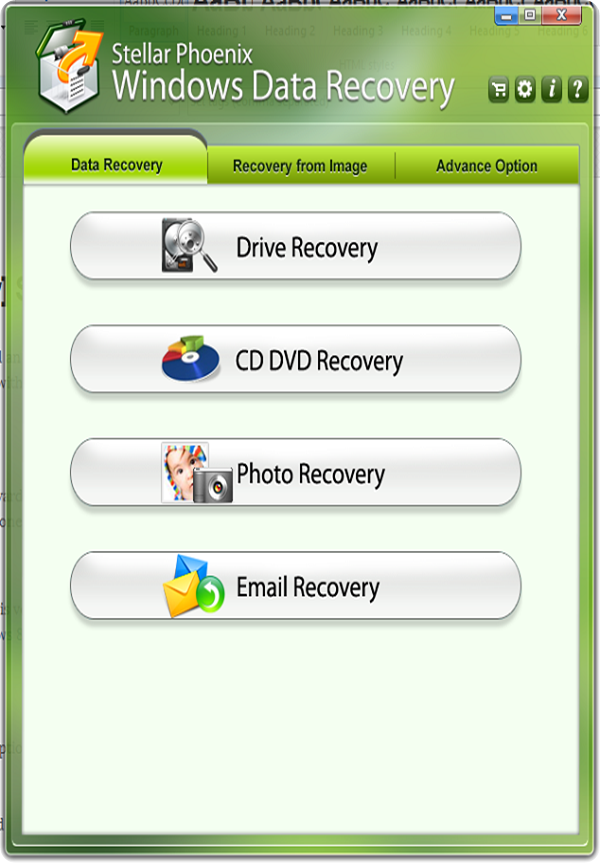 Basically it comes with 3 options in Tabs
Data Recovery
Image Recovery, and
Advance Option
Lets start with Data Recovery :-
Inside this option you have 5 option, Drive Recovery, CD/DVD Recovery, Photo Recovery, and eMail Recovery.
Quick Recovery option of Windows Data Recovery software can perform a quick scan on selected existing volumes, lost volumes, and on removable media. You can select only one volume at a time for quick scan. This scan method is fast and efficient.
We tried it and we found our data like images, documents and music's file including videos too without any hassle.
Deleted Recovery can recover files that are deleted from a volume or removable media by using deleted file recovery process. The scan result lists only files that are deleted from the selected drive.
With Stellar Data recovery option you can recovery option you can recover data from your hard Drive or even from your Optical Drive too.
Photo Recovery this is best if you want to recover images from your hard disk, on our test we are more than happy with this option.
eMail Recovery, had you ever pressed Delete button for your eMail mistakenly and then you felt need for that eMail?
Well with Stellar data Recovery tool you can recover your deleted email too, but in this you manually need to browse and select your PST or DBX files, Stellar should find it itself.
This tool also allows you to create image of your Drives so that in future you can recover from those images, its an nice option as you have full backup with you in case you lost anything.
If you want to copy your drive to another location or to external hard disk then you can also do this by making Clone of your disk. This tool will create an exact replica of a hard disk.
What we Like ;-
Use most advance scanning engine,
Results are above expectations,
Classic and clean interface
Recovery rate is very good.
What we didn't liked :-
Still requires some manual job
TechnoArea Rating :- 4.5/5