As you all know that by default you can move any file or folder from one place to another by just dragging and dropping it, but you can use some key combinations like if you press and hold Ctrl and drag and drop you file then it will get copied not moved, or you can press and hold Alt and drag and drop files then it will create a shortcut of that file.
But if you wanna change the default function of drag and drop then you can use a freeware tool Drag and Drop Editor, it's a portable tool which will tweak with your registry settings and change the default function of dragging and dropping.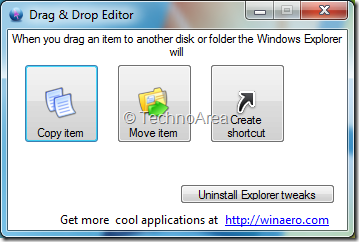 To use tis tool just download and run it, you will get a screen like above, just select the mode you want and click on it and you are done. If in future you wanna roll back then just click on Uninstall Explorer Tweaks and your default function will be back.
This tool work fine on Windows Vista, Windows7 and Windows 8 too.
To know more take a look at the video below :-