Recently we had shared Angry Birds Boot Screen for Windows XP, now we are here with another Angry Birds Boot Screen and this time its for Windows 7.
Eorxroa at DA, the same guy who created Windows Xp boot screen has created this Animated Boot Screen for Windows 7.
After installing it you will get following boot screen on your system.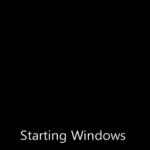 How to install :-
Launch Windows 7 Boot Updater and then navigate to File -> Load boot skin and select the extracted boot screen and then Apply it
That's, now restart your system to enjoy new boot screen.