Every day we see in the news that Air Quality of our city is becoming worst, recently the capital of the country, New Delhi was covered by heavy smoke, and that smoke was there for almost a week which affected millions of people living in the country. And this is not the case of Delhi only, most the cities in our country are covered with heavy smoke which is surely not good for the health of people living there. Air pollution is causing 7 million premature deaths across the world, and 50% of these occur in China and India only. You will be shocked after knowing that 13 of the world's 20 most-polluted cities affecting 660 M people are in India.
The key takeaway is for people to "Know Your Air":
Know the air quality of the city you are in, and if it is poor only step outside with proper protection of a respirator – using multiple websites and apps
Know the air quality in your home where you spend most of your time – using a simple Air Quality indicator available easily in the market today
Recently I had attended a workshop organized by 3M, a well-known company has some nice products which make easier for you to deal with the pollution in your city and you can make your own and family members life better.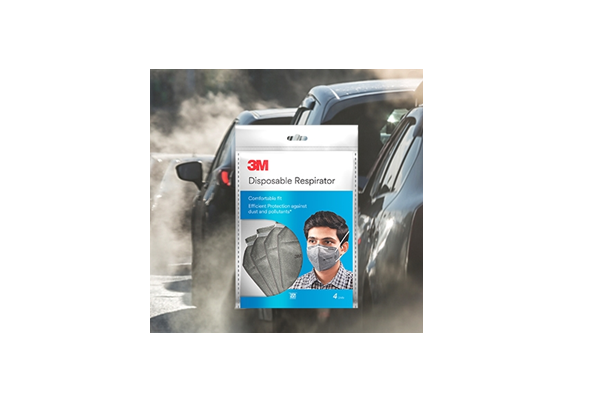 3M's Electrostatic non-woven fiber has proven it's efficiency and superiority in the air filtration space. The electrostatic charge allows it to pull and trap PM2.5 and PM10, almost like a magnet, letting clean air flow through. These are applied to respirator which allows you to breathe easily, and they can be used as AC filters and allow you to clean your home or office air.
What Are Masking And Respirator?
Recently I have seen many people were wearing a mask, yes the surgical mask which is used by doctors, and its because they don't know what mask do and for what purpose it is built for, let me give you some basic difference of both.
Respirator filter the particles like PM2.5 and PM10 from the air when properly fitted, helping reduce the number of particles or germs the wearer breathes in, while masks are meant for the use as a surgical mask by a surgeon in a clean room (e.g. An operation theater) but are NOT designed to protect your lungs from airborne hazards like PM2.5 or PM10
Respirator has the word NIOSH / EN and the approval type (i.e. N95; N99; FFP3 etc.) printed on the product, while mask does not have the word NIOSH / EN and the approval type (i.e. N95; N99; FFP3 etc) printed on the product.
The respirator is secured tightly to the face, with 2 head straps and a nose adjustable clip over the nose to allow for a more custom fit while mask does not fit tightly to the face as there might be gaps around the edges.
Respirators are meant to provide you clean air which is free from PM 2.5 and PM10 particles, while mask help prevents large particles expelled by the wearer (surgeon), such as spit or mucous, from entering the environment. If the wearer coughs or sneezes, the surgical mask will help collect the larger particles expelled.
What can be done to stay healthy –
Clean Indoor Air – Home is the place where we spend most of our time, so it's better to make the air clean at your home, you can 3M AC Filter with your existing wall-mounted AC to clean the air inside your home. You may run your AC on fan mode in winters for just one hour for 83% cleaner air, or if you can then invest in Air Purifiers.
Wear Respirators (not mask) properly
Limit your outdoor activities
If anything goes wrong, consult your doctors.
How To Turn Your AC Into Air Purifier –