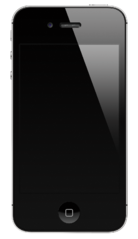 As you all know Airtel and Aircel had launched latest Apple iPhone 4S here in India, but the launched prices are too high.
If you wanna buy a 16GB iPhone 4S then you have to pay Rs.44,500 , for 32GB you have to pay Rs. 50,900 and if you looking for 64GB then pay Rs. 57,500.
These prices are too high if you compare them from US or any other countries prices.
If you ask me then I will recommend you to wait a bit and after some time both operators will drop prices of iPhone 4S and iPhone 4. But if you wanna purchase iPhone 4S right now and cant wait for it then here are some ways to get it at cheaper rate. Just try them out and you will find very much differences in price of these and of operator, Airtel and Aircel.
Get it from foreign
If you compare iPhone 4S price here in India from any other country where its been launched like Hong Kong, UK, or US then you will see that there is a difference of 30%.
So if your friend is coming from any of these country then ask him to get it for you.
Purchase from eBay
If non of your friend or relative is coming from foreign country then still you can get it, just order it from eBay, you have to pay some delivery charge or duty but it will not cost much.
Get It From Gray Market
You can buy iPhone 4S from any of the gray market near you, I had visited some of market near me and I had found drop prices there.
Risk :-
If you buy iPhone 4S using any of the above method then keep in mind that you will not get Apple's warrantee because in all cases you will get iPhone 4S shipped from some other country and Apple don't provide International Warrantee on its iPhone.