Apple is all set to host an event on 9th of March where Apple is likely to launch its first ever wearable device, the Apple Watch which they has revealed last year in September. But as we are moving inch closer to the launch event, some sources of 9to5Mac folks have revealed some of its hands on details like battery-life, power reserve mode, storage, music and some other's of Apple Watch.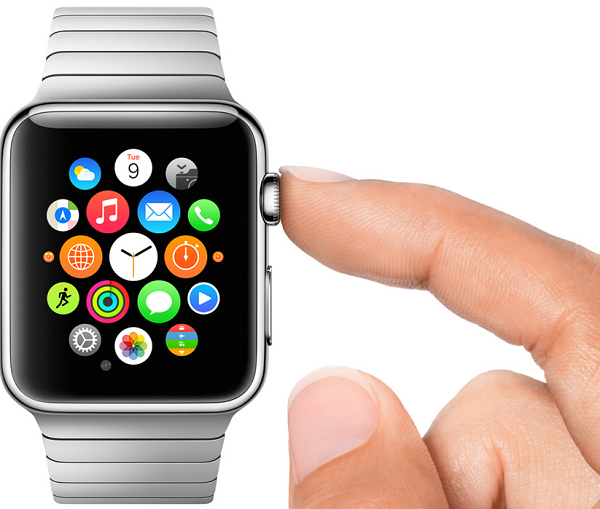 From couple of months, Battery is one issue which was in trending a lot, some of the earlier news had revealed that users need to charge Apple Watch every night, but now new sources revealed that Apple has improved battery backup and now Apple Watch will provide 5 hours of battery backup on heavy usage and will delivers 19 hours backup over mixed usage, its quite good and it can survive in day but still it need to be charged every night as it wont survive next full day.
Nowadays you must have seen that most of the smartphone comes with Ultra Power Mode which saves you battery by terminating some apps when your battery is low, now news revealed that Apple has implemented same power saving mode named "Power Reserve Mode", you can also enable this mode when you have 100 percent battery, once this mode is enabled it will dim out your display, increase the time interval in which it will communicate with iPhone, and puts display to sleep after two seconds of inactivity.
When you battery becomes low in Apple Watch you will get nice colorful notifications, like when 20% battery life remaining, the Battery Life glance turns to orange/amber color, at 10%, the glance turns from orange/amber to a red color. Apple has also improved the charging time which Apple Watch will take, test units were charged from 0 percent to 100 percent in 4-5 hours via the wall-attached MagSafe charger.
Apple Watch will feature Heart Rate Sensor which allows you to check your BPM (Beats Per Minutes) and check it on your iPhone which further can be integrated with your fitness app like iPhone health app and allows you to calculate calorie readings.
Apple Watch also comes with 8GB of internal storage which allows you to store songs which you can play even when your iPhone is not linked with Apple Watch, you can also stream songs to Speakers or Headphone's via Bluetooth.
In addition to the Heart Rate and Battery Life following Glances are installed on the Apple Watch :- Fitness Stats, Activity, Clock, Weather, Music, Quick Settings, Calendar and Maps.
Publication also mentioned that Apple Watch doesnt feels sluggish, all thanks to the S1 chip which is implemented on. If you are wondering how can you turn off your Apple Watch then all you need to do is long press 'communication button' on the right side. To force close any non responsive app by going to shut down screen and then pressing the right side button.
Apple Watch will be launch on 9 March, we will provide all latest news and happening of this event along with live streaming link for you so that you can watch event live.