It almost happen that you close a tab but after some time you need to reopen that closed tab in Google Chrome,However in Google Chrome you could open last close tab by just right clicking on tab and select Reopen Close Tab.
But it may be irritating and time consuming.Here is a Google Chrome extention Trash Can.
With this extension you can easily reopen previously closed tabs. There is no limit on how many tabs can be remembered. It is kind of a mix of the "recently closed" bar on the New Tab page and the History page.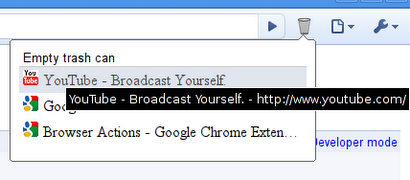 It currently supports only the very basic functionality. It has not been developed with for example multiple windows in mind. It might work as expected when using multiple windows, it might not, I will look more into this in later versions.
Features Of Trash Can :-
Option to save tabs between sessions.
Better support for multiple windows, if necessary.
Incognito mode support.
Optional limit on the number of tabs to remember.
Option to not remember special pages, or the "New tab" page in particular
Option to show only a limited number of tabs in the popup, but have a button to show even older tabs