All of you are already well aware of online Cloud services which offers you to store your contents on them and then sync them over cloud so that you can access them from anywhere in the world.
I use Dropbox more and put my work related documents on so that I can have a copy on my other machine and even on my phone so that I can check them on the go too. But a drawback on these online services is that you manually need to place your files and folder on their folder to sync them.
Dropbox works on Windows, Mac, iOS and Android too. If you haven't joined Dropbox then you can join it from HERE and you will get 2 GB of free space.
Suppose you had a document folder on E drive and if you wanna sync them then you need to copy and paste that folder on your Dropbox folder. But here is a simple way which allows you to Sync any folder which is not actually present in your Dropbox folder.
Dropboxifier is a simple to use tool which allows you to sync any folder with your Dropbox account which is outside of it. Just download and run the tool, its an portable tool so no need for any installation, when you run it for first time you need to select your Dropbox folder where it will place a XML file to keep records of your folders. While running it for first time you will get following Alert warning.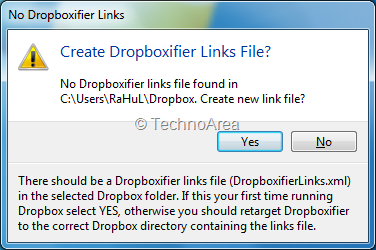 Simply click on Yes to go ahead, now name the folder and select it on the left side pane under Add New Link and then click on Dropboxifier.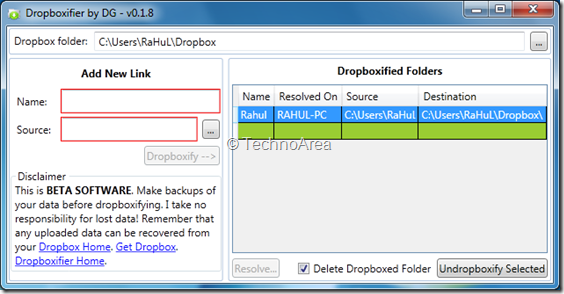 Then it will update your XML file on your Dropbox folder, don't try to mess with that file, you can take a look at the screenshot of XML file of mine at below.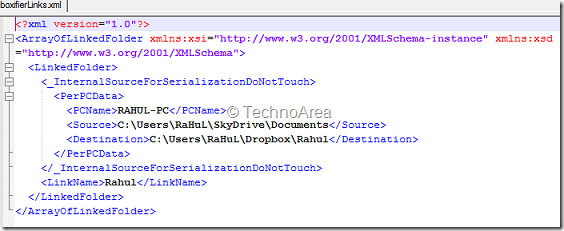 The tool will work fine with other online cloud storage services like Google Drive and Microsoft SkyDrive too.