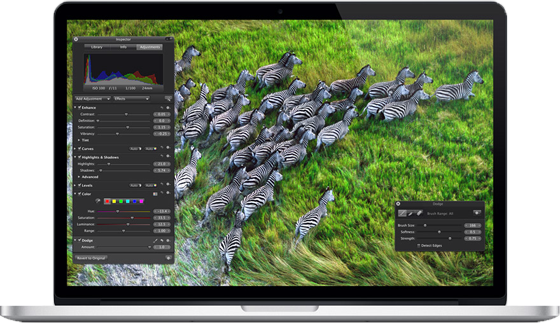 If you are a Apple fanboy then here is a good news for you, Apple has announced new series of its MacBook pro on WWDC held on 11th June 2012. These new laptops comes with Retina display screen which makes them more effective and beautiful.
Recently I visited an Apple store here in India and asked for new MacBook Pro, the manager there told me that they will land in store by late July. But recently I am navigating eBay India and found that these high end laptops are available there.
The price of these laptops are also good, you can get 13 inch model at Rs 74,900 but its MRP is Rs 81,900, 15 inch Base model with Retina Display is available for Rs. 1,39,900 but its MRP is Rs 1,52,900, and 15 inch refreshed model is available Rs 1,79,900 but its MRP is Rs 1,92,900.
Here are the Specs of these MacBook Pros :-
| | | |
| --- | --- | --- |
| MacBook Pro 13 Inch | MacBook Pro 15 inch Base | MacBook Pro 15 inch Refreshed |
| 2.5GHz Intel Core i5 Dual-Core | 2.3GHz quad-core Intel Core i7 processor | 2.6GHz quad-core Intel Core i7 processor |
| 4GB (2x2GB) RAM | 8GB RAM | 8GB RAM |
| 500GB 5400rpm Hard Drive | 256 GB Hard Disk | 512 GB Hard Disk |
| SuperDrive & Secure Digital Card Slot | 2 Thunderbolt, HDMI and USB 3.0 ports | 2 Thunderbolt, HDMI and USB 3.0 ports |
| Intel HD Graphics 4000 GPU | Intel HD Graphics 4000 GPU with NVIDIA GeForce GT 650M with 1GB | Intel HD Graphics 4000 GPU with NVIDIA GeForce GT 650M with 1GB |
| 13.3″ Glossy Widescreen Display | 15.4-inch Retina display with a resolution of 2880×1800 | 15.4-inch Retina display with a resolution of 2880×1800 |
| FaceTime HD Camera | FaceTime HD Camera | FaceTime HD Camera |
| Bluetooth 4.0, 802.11n Wi-Fi | Bluetooth 4.0, 802.11n Wi-Fi | Bluetooth 4.0, 802.11n Wi-Fi |