As we know that launch of Nexus 5 is just around the corner and we had already seen number of leaks for this phone, now PockLint has posted image of device packaging as it has been arrived in Carphone Warehouse, a mobile store franchise in the UK.
As per PocketLint the packing which we in images are genuine and is of Nexus 5, as there are lots of rumors floating on internet regarding the launch date and now latest rumors suggest it could be launch later tonight with new Android 4.4 KitKat.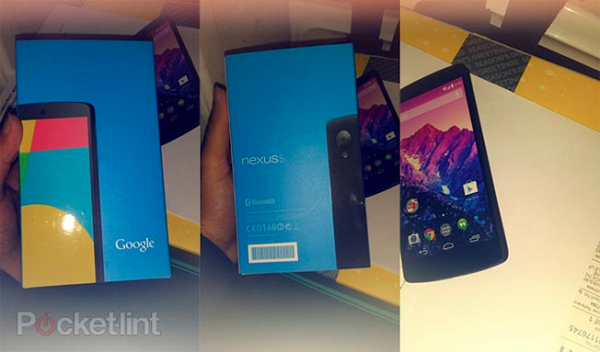 As far from leaks we know that Nexus 5 will flaunts an 4.95-inch full HD display screen, it could be powered by a quad-core Snapdragon 800 processor clocked at 2.3GHz along with 2GB of RAM, at back it will have an 8 megapixel camera with optical image stabilization, and it comes in 16/32GB variant, for connectivity it has Wi-Fi, NFC, Bluetooth 4.0 and will run on Google's new Android 4.4 KitKat operating system.
However there is no word on Google holding any event tonight, it could happen that it could arrive in retail shops early.