Giveaway Is Closed And We Will Announce Winers Very Soon, We Had Also Closed Comments Too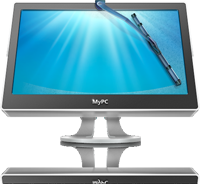 Yesterday we had posted a detail review of CleanMyPC, a nice tool which cleans your computer by removing junk files from it, not only it removes junk files but it also comes with some nice features.You can read its full review here :-
We are happy to announce that MacPaw is giving away 3 lifetime license key for our readers which costs $29.95 each.
The rules are simple for this giveaway, Here are the rules :-
First Subscribe To our Newsletter :- First of all you need to subscribe to our daily Newsletter,
You can Subscribe to our Newsletter from Sidebar link Or from below link:-

Leave a comment :- And just leave a meaningful comment in this post.
[Make sure you will use same email id while leaving comment which you used to subscribe to Newsletter]
And we will select 3 lucky winners randomly and they will get so Lifetime License Key of CleanMyPC which cost $29.95 each BEST OF LUCK.
This Giveaway will ends on 18 May, 2011.