Recently Microsoft has released the beta or Consumer Preview version of Windows 8 to public, if you had downloaded it and installed on your computer then you will notice that Microsoft has removed the Start ORB button from it.
Many guys are not liking it, as now they need to press Windows Key on keyboard manually to get all their programs, if you too not liking Microsoft this move then you can easily get your old Start ORB back with the help of Start8.
When you download and install it, you will immediately get your Start ORB back, when you click on it you will get your start screen in a small size in a well organize manner.
When you right click on Start ORB you will see some options.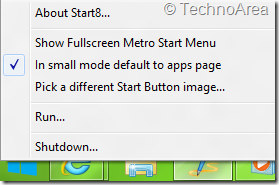 Show Full screen Metro Start Menu :- Launch Start Screen in Full mode after clicking,
In small mode defaults to apps page :- Launch Start Screen in a small manner,
Pick a different Start Button image :- Can select a different Start ORB button, it already comes with lots of button which you can use easily.
Run :- Launch your run command dialog box,
Shutdown :- Shows you option regarding Shut Down, Restart and so on.