Windows 8 comes with many  new features like Start Screen, Metro Live Tiles, and much more, if you had upgraded yourself from Windows 7 or earlier to Windows 8 then you might have seen these features on it.
Many users has like it and accepted it with warm heart, but still there are some guys who are not liking it and wanna downgrade to Windows 7. If you too not liking those new Metro UI then here is an portable tool for you.
Metro Killer is a freeware tool which removes Metro UI along with Start Screen and Charms bar. As its an portable app so you just need to download and launch this app.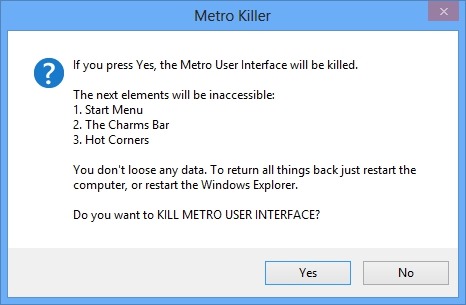 This app doesn't had any setting or options, you just need to launch it and it ask your confirmation to disable Start Screen, Charms Bar and All Hot Corners.
If you want to revert back then you just need to restart you computer or restart your explorer using Task manager or other means. If app works on both Windows 8 32 Bit and 64 Bit.