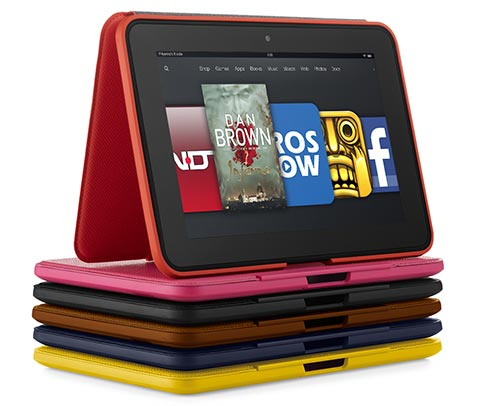 After launching Indian version of its website, Amazon has started selling its popular tablets Kindle Fire, and Paperwhite to India.
This tables are up for order on Amazon.In and will start shipping from 27th June onward. Amazon has launched these tablets quite a long time back but now they are available via Amazon itself. Earlier major retailers like Chrome Reliance Digital, E-Zone and Vijaya Sales were selling these tablets.
Kindle Fire HD comes with 7 inch with 1280*720 screen resolution and it it is powered by 1.2 GHz  dual-core processor. It weighs 395 grams and is comes with a 4400mAh battery with 11 hours of  life.
KIndle Fire HD 8.9 has screen of of 8.9 inch with screen resolution of 1920 x 1200 pixels. It is powered by a 1.5GHz dual-core processor, it wieght 567 grams and comes with 6000mAh battery with 10 hours of life.
Both Fire HD tablet has 1GB of RAM, dual-band Wi-Fi, Dolby Audio with dual stereo speakers, Bluetooth 3.0, and are available in 16GB and 32GB variants.
Kindle Paperwhite tablet has 6-inch front-lit display with 212ppi, it comes with 2 GB of internal memory and 2 GB cloud storage too. It weighs 213 grams and comes with battery life of 8 weeks.
All these tabkets runs on stock version of Android 4.0.3 and you can only download apps from Amazon Apps Store, you dont have access to Google Play on this. All purchase will be done through Amazon account with your international Credit or Debit Card in either USD or INR.
KINDLE FIRE HD 7 INCHES (16GB) @ 15,999 INR
KINDLE FIRE HD 7 INCHES (32GB) @ 18,999 INR
KINDLE FIRE HD 8.9 INCHES (16GB) @ 21,999 INR
KINDLE FIRE HD 8.9 INCHES (32GB) @ 25,999 INR
KINDLE PAPERWHITE Wi-Fi  @ Rs. 10,999 INR
KINDLE PAPERWHITE 3G @ Rs. 13,999 INR