Amazon has launched Indian version of its eCommerce website earlier this year, then within a month Amazon India had added six more categories of Apps, Books, Movies and TV Shows, Mobile phones and accessories, Cameras and Portable Media Players to meet its customer needs, now to offer more products to its customers they had added another Computers and Accessories category.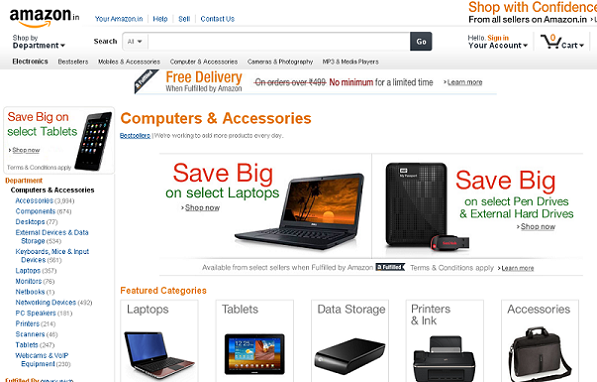 As its name suggest this category will offer desktops, laptops, tablets, scanners and printers. It also offers accessories like Mice, keyboards, laptop bags, speakers and so on. You can find good discounts on these products.
As per Amazon India, its new store offering more than 20,000 products from more than 150 electronics retailers including Croma, Vijay Sales, UniverCell, Saholic, and J.J. Mehta & Sons. For a limited period of time orders fulfilled by Amazon comes with free delivery, cash on delivery, delivery tracking to the doorstep, and free returns pickup.