ASUS Republic of Gamers (ROG) has announced a new photo contest, 'Play It Cool', its an online photo contest which will run from 7th – 27th September, 2015 and under this participants can show their creativity and share idea of a 'super-cool' ASUS ROG laptop or G20 desktop by just uploading a picture of on Facebook, Instagram, Twitter, Google Plus, Vine, or Flickr with the hashtag #MyCoolROG, and the winning entry will get a chance to win a ROG G751 gaming laptop.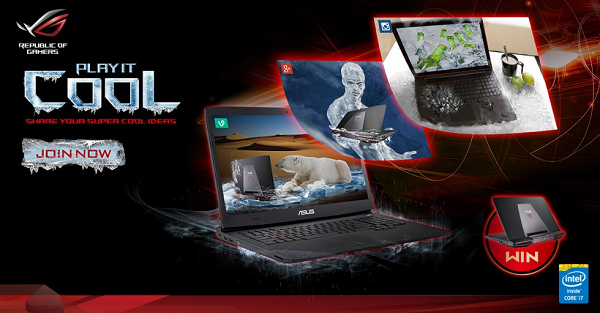 If you want to participate then you can submit photos of your own ASUS ROG laptop or G20 desktop if you have or you can simply download and edit ROG G751 or G20 images from the campaign site. Winners will be announced on the campaign site on 2nd October, 2015.
ASUS ROG already comes with very effective cooling systems for its gaming laptops which ensure the very best cooling performance while playing high end games on it. ASUS ROG utilizes a combination of hardware and software aimed at providing smooth, stable, and silent computing performance.
Just to remind you, Asus ROG G751 is powered by a 4th-generation Intel® Core i7 processor along with NVIDIA® GeForce® GTX™ graphics, with TurboMaster technology for stable GPU overclocking and 24GB, and it features ROG AudioWizard which enhanced audio for immersive gaming, there is dual-fan cooling system which keeps components cool while you are playing high end games, Asus has also provided a gaming-centric hotkeys for users which lets you access Steam or share gameplay videos online.