Samsung has launched its latest and most powerful phone till yet, Samsung Galaxy S III, The phone is still waiting to hit stores and Samsung has yet not released its price details.
But this powerful smartphone is up for sell on Indian eBay site, and its for 44,700 INR bucks and you have to pay shipping charge of 230 INR means phone will cost you 45K INR, yes it seems too high for many of you, even for me its too high I was expecting between 35k to 38k.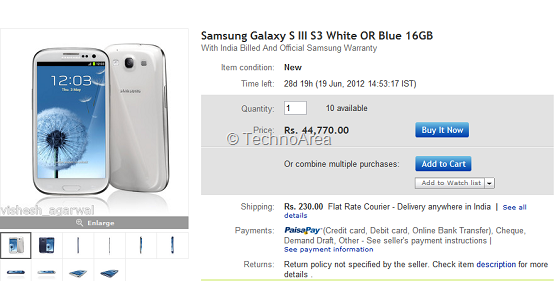 You wont delivery of this phone immediately, it will be delivered after 1st of June 2012, it means device will be available in the first week of June.
Advice
We suggest you to keep away from such suppliers as we expect that Price of this phone wont go up from 40K INR, but yes Samsung may launch it at high price as you all know that Rupee is continuously becoming weaker day by day.
Thanks for Sudeep Jain