Google team has launched calling feature in Gmail sometime back and many people has started using it, at start all calls made on US or Canada was free,
On start you was able to make only one call at a time means if you were talking to your friend and someone calls you at the same time then he would not be able to make it as you were busy.
But now Gmail has introduced Multiple Call feature which allows you to make multiple calls at a same time, you can put one call on hold and start conversation with other one and later you can resume the previous call and again talk with him.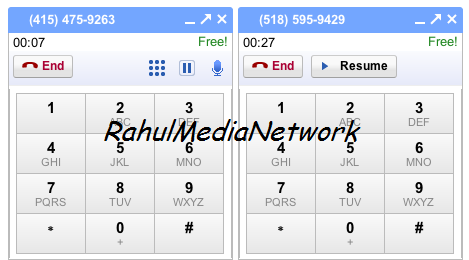 While talking to someone you get another call and you answer it then previous call will automatically putted on hold, Receiving incoming calls while you're in another call is just as easy: you'll receive a notification of the incoming call and can choose to accept it or not. If you take the new call, the previous call will be put on hold.
Whether you make a second call or not, you can now put any call on hold, its useful if you wanna do some other task or wanna answer call on your mobile, all you need to do is press Hold button and when you are done with other work just press Resume.
This feature works across all call types (voice, video, and phone); the only restriction is that a maximum of two outgoing calls to physical phones can be placed at once.