Sometimes we need to make backup of our Gmail contacts to our PC, reason could be any like you fear that if your Gmail account got hacked then you may loss all contacts Or you just need back up.
So those case you can export all Gmail Contacts into your PC as an back up, Making backup is very easy like eating an pie, So here we go :-
First login to your Gmail account,
Now click on the Contact link from the left sidebar,
Now you will see some list on the left sidebar Like My Contacts Most Used and All, depends what list you had created,
Now click on More Actions –> Exports at the Top Bar, to export the contacts,(You can even select some contacts which you wanna exports),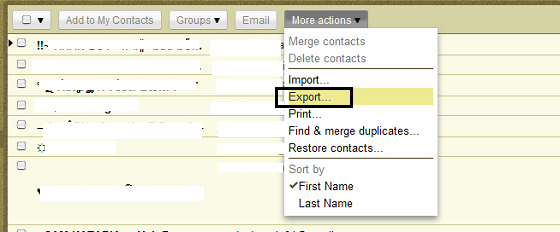 Now a dialog box comes with few options, Select which contacts you wanna export, if you had selected some then check that and like that,Now things come to Export Format, if you are exporting contacts to transfer it some other Gmail account then use Google CSV otherwise go for Outlook CSV, If you are on Mac then use vCard Format.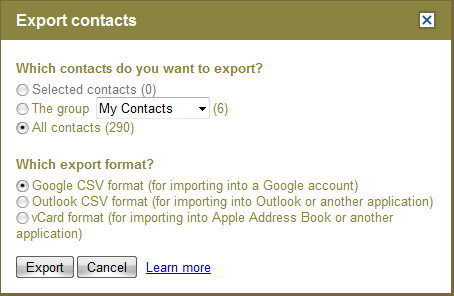 That's It save it and enjoy back up.