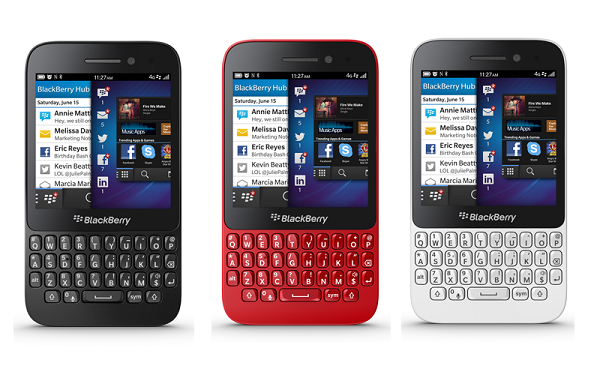 BlackBerry could launch Q5 here in India on July 16 as per FirstPost. Q5 will be the cheapest BB 10 OS phone, which will help BlackBerry to attract more users.
Q5 is the second QWERTY phone running on BB10 OS, after very expensive Q10. As per specs Q5 is very much similar to Q10.
It has got 3.1-inch LCD display with screen resolution of a 720×720 pixels, on the other hand Q10 has got Super AMOLED screen. It is powered by 1.5 GHz Qualcomm Snapdragon S4 Plus dual-core chipset along with 2 GB of RAM, similar to Q10.
Now you might be asking if everything is same in specs with Q10 then how BlackBerry managed to price it down, actually BlackBerry has reduced built quality and internal memory.
It has got plastic body, at back it has 5 MP camera which can shoot 1080p videos, it houses a 2,180 mAh battery. It comes with 8 GB of internal memory with 64 GB expandable option using microSD card.