Google has just launched Google Drive, the new cloud based service which allows you to store 5 GB of data on cloud for free.
To view and edit your files on Google Drive you need to have internet connection but you can also access your drive files while you are not connected with internet :-
Install Google Chrome if you haven't already.
Launch a new Chrome browser window and go to drive.google.com.
Click the gear drop-down and select Set up Docs offline from the menu.
In the "Set up offline viewing of Google Docs" dialog that appears, click Allow offline docs.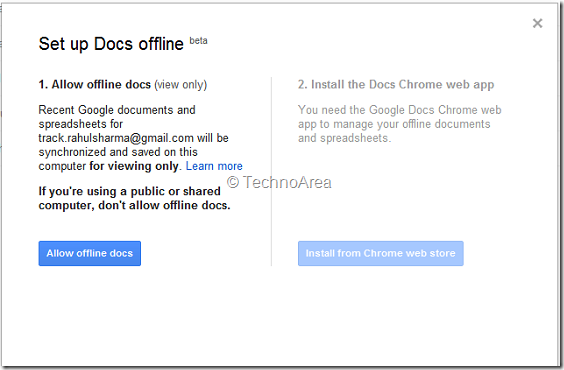 Click Install from Chrome web store next to the dialog box.
From the Chrome web store, click Install.
Click the Google Docs icon to go back to your Google Drive.
Note :- To protect your documents, Do not enable offline access on any public or shared computer.
Google documents and spreadsheets can be view, but can't be edited
While you can't edit Google documents and spreadsheets offline, you can view them without an Internet connection. Just point your Chrome browser to drive.google.com and select Google document or spreadsheet to view. View access isn't available for Google presentations, forms, or drawings.
Non-Google Docs files that you've stored in Google Drive can be viewed and edied.
You can both view and edit files such as PDFs, Microsoft Office files, and images, from your Google Drive folder even when you're disconnected from the Internet. Any changes you've made to synced files while offline will sync to all devices with a time stamp when you reconnect to the Internet.